Ruskin's strange boast 'At least I did justice to the pine' haunts me. He means 'I may have failed, but at least I did justice to the pine', 'All the years I devoted to that enormous project, Modern Painters, were largely misspent, but at least….'
Reading over something I'd written and been happy with, I saw very starkly I hadn't done justice to Rembrandt but missed the important things, like his radical conceptions of familiar subjects, and his abandonment of his earlier smoothness, trading it in works like the small Raising of Lazarus for a new harshness of line, quavering to express uncertainty, almost a confession of inadequacy in front of his high, difficult subjects.
Not long ago they staged a competition between Rembrandt and Rubens—or was it just a comparison?—in the basement of the National Gallery. I remembered the time when I preferred Rubens, for his amazing fluency–he could show a lot of figures flying or falling through the air, each one perfectly turned, every limb twisted in a believably liquid way, such alertness, such energy in every bit of the scene that jumped with activity.
Now Rembrandt seemed the only serious one, really studying his subjects, burrowing into them, while Rubens skated over the surface, producing generic beings, and too many of them, like someone who can run back-to-back marathons without any sign of normal human tiredness. How long has it been since Rubens really looked closely at any particular feature of the world around him? His mind and hand are stocked with a thousand formulas that spring forth on demand.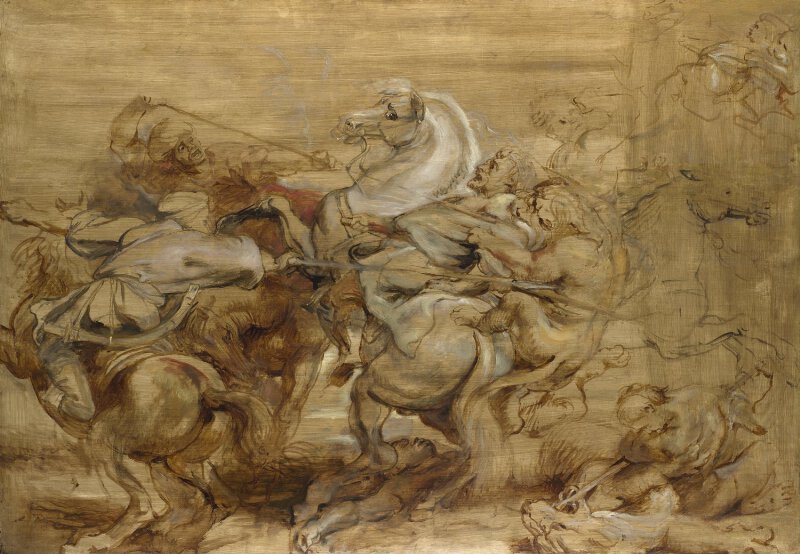 Rubens reeks of success and ease; nothing has ever been hard for him. Rembrandt drags richness and beauty out of awkwardness and failure, haunted by a deeply Protestant sense of being locked in a struggle that he may not win. To do justice to Rembrandt you would have to show him wringing defeat from the jaws of victory, pushing on in his revisions to find new difficulty in his subject, like a darkness so profound it takes an intrepid viewer to see the few traces left after most of what was there before has been subtracted.
The darker Entombment in the British Museum exhibition has swallowed up its subject so completely you have to hallucinate it. There is a whole case of little prints like photos taken in a dark room. I felt I was being sent to a demanding school, but the rewards could be wonderful when they came. The best of them was a black nude with her back to you, lying on a white sheet with lace edges. The richness of these contrasts, the subtlety of all the shades of black seen in darkness, the startling whiteness with its delicate inscriptions jumping out from under blackness—to find something so luxurious just exactly here, such paradoxes, such depths.
Sadly, no reproduction can show these things, though of course the etchings are all reproductions in the first place. But we don't know and often can't fathom when we do, the lengths Rembrandt has gone to for his effects. He has printed the earlier Three Crosses in the British Museum on vellum, the skin of an animal; Christ in the re-worked Three Crosses jumps toward the viewer as if someone has pressed a zoom button, and the whole scene has miraculously shrunk up round him, sucked in by diagonal scoring of the reins of the main rider for instance that I didn't notice last time, and which don't show in the photo taken from the website. The tree behind St Jerome in the big print in an Italian landscape is of such richness you feel you could never see it twice, far less will it ever reach you via its shrunken replica.
I guess these are laments that could be applied more widely. Many things never look as magical again as they did the first time, as unforeseen, as electrifying, but on good days you will see features that you didn't have time to notice the first time. Rembrandt is a painter for those who are willing to discard their old impressions and start again.